VIC METRO
North west suburbs
Code:
Vm279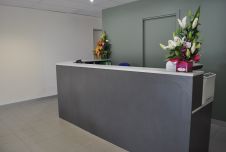 Type PERMANENT (PT)
Sector PRIVATE
Part Time Opportunity for an experienced, dedicated Dentist
A wonderful opportunity has become available to replace an existing position in a busy, highly successful practice located approximately 25 minutes drive north west of Melbourne CBD.
This 2 chair practice is currently seeking an experienced General Dental Practitioner for Mondays, Wednesdays and Fridays 9am to 6pm, and later extending to include Saturdays. We are seeking a practitioner who appreciates and practices high quality patient care, is community minded and dedicated to building a solid patient base.
Desired attributes:
Confident Clinician – with a special interest in Oral Surgery & Implants
Intra & Extra Oral Radiation License
Current Indemnity Insurance
AHPRA Registration
Be eligible to practice in Australia
Possess excellent communication and interpersonal skills
Exceptional patient care focus
Ability to work effectively in a team environment
Essential requirements for this position are at least 2 years of Australian practice experience.
Remuneration is 40% of (gross less lab fees). Commence 01 June 2015.